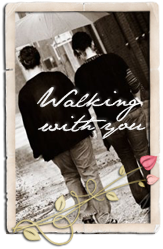 Walking With You is an outreach of
Sufficient Grace Ministries
, led by Kelly Gerken. We are a group of mothers who have lost a baby or child. We gather together from different places on our journey, each month to share our stories, to encourage, and pray for one another as we walk this path together. Our hope is that you will be comforted when you join us here...and maybe that we can offer some grace for the journey as we look to the Lord for comfort and strength.
This month for Walking With You, we will be going through the
Threads of Hope, Pieces of Joy Bible Study
for the next nine weeks. Even if you have not joined us previously, I hope you will join us for this. All are welcome. My prayer is that it will bring hope and much-needed encouragement to hearts that are grieving.
*Because a lot of material will be covered in each study, you may share as much or as little as you wish about what speaks to you. You may answer every question on your post, or just choose one particular concept or scripture that spoke to you. Share as little or as much as you are able.
I'll admit, I was a little disappointed that there weren't more participants in last week's study. It seemed like there was so much enthusiasm about starting it. (I am grateful to those of you who did participate, though!) And, I hope it was a blessing to others, even if we didn't hear from you. I know how busy everyone is. Believe me, I'm giving up much-needed sleep so that I can just get this post up! If you missed last week, you can still join in anytime...or just comment if you don't wish to post. We appreciate the input and encouragement, too! If you do post, don't feel like you have to cover everything in the study. It is a lot for a blog post. Just share what you wish. O.K....I'll get off my soap box, now. Please just know, that you are always loved and welcome here...to come as you are.
------------------------------
We begin this week's study with Joseph's father receiving the news of his son's "death". His expression of grief in Genesis 37:31-35 is heart wrenching and raw. He tore his clothes, refused to be comforted, wept, and said that "he would go down into the grave with his son".
I can relate to this. Looking back on my own initial grief with Faith and Grace, I am met with images of myself wailing in an unrecognizable voice from the deepest pit of my soul. It is a blurry image without details...just mind-numbing sorrow. Beyond reason sorrow. And one word of denial shouted above it all..."Nooooooooo...". I can even remember fleeting depths of pain so great that I did wish I could join them...not that I would have taken it into my own hands. But, my longing for them was so great and the pain so intense, I felt desperate for relief...desperate to be where they are.
I love Joseph's response to his brothers who had wronged him terribly:
Joseph said to them, "Do not be afraid, for am I in the place of God? But as for you, you meant evil against me; but God meant it for good, in order to bring it about as it is this day, to save many people alive. Now therefore, do not be afraid; I will provide for you and your little ones." And he comforted them and spoke kindly to them. ~ Gen. 50:19-21
There are things in life that are hurtful...things meant for evil that God is able to use for good, in order to save many...to comfort many...to heal the hearts of many. We need not be afraid, because our Comforter will carry us and provide for us.
With Faith and Grace, I could relate more to Joseph's father with regards to my grief response. But, with Thomas, my response resembled that of Job. Not that would hold myself up as a Job or even say that I am in his league of displaying faith through suffering. But, his response resonated with me often during my own walk through that dark valley. As far as Job's wife goes...yes, I have seen others turn away from God in the face of grief, instead of toward Him. It is a common response.
I took comfort in the book of Job, often, as we processed the news that Thomas would not dwell long with us on this earth. I wrote a prayer the night we heard the words "incompatible with life". At the end of the prayer, I had scrawled Job 13:15 and Job 1:20.
Job 13:15
Though He slay me, yet I will trust Him.

Job 1:20
"Naked I came from my mother's womb,
And naked shall I return there.
The Lord gave, and the Lord has taken away;
Blessed be the name of the Lord."
I studied Job...wanting to know how to do this...how to survive it...how to find hope in the midst of it...how to please God even with a shattered heart, as we walked this path. It gave me comfort to see that the people of the bible struggled with the same things that I did.
Job 3:25-26
For the thing I greatly feared has come upon me,
And what I dreaded has happened to me.
I am not at ease, nor am I quiet;
I have no rest, for trouble comes.
It also brought me great comfort that God noticed, acknowledged, and understood my sorrow. It is stated that through all of Job's suffering, he did not sin. He was overwhelmed, wanted to die, agony tore at him, and he even questioned God. Still, he is counted as faithful. I needed to know that feeling overwhelmed by grief, wondering why, not joyfully skipping through this pain was not wrong. Feeling all of that...not loving the suffering... didn't mean I wasn't faithful.
Walking this journey with Thomas, I learned about blessing God in the giving and in the taking away. For in both, He is good...He is faithful...and He is worthy of our praise. It is a precious gift.
I also love how God restored Job's losses...and blessed him greater in the end of his life than in the beginning. Oh...His promises are perfect and true.
The next section shares on the steps or stages of grief. I encourage you to read this, especially if you are newly walking this path. It does help to understand what you are feeling, and what you can possibly expect to feel. There is also a place to list the major events and losses you've experienced. I'm not going to list all of that in this post...but I will say...God has carried me through many losses and trials, redeemed and restored much that was broken and taken from me, and He has healed so many hurts. Much has been taken...but much more has been given. And, for that I am grateful.
I leave you with some instructions for us and some promises from our faithful God...
Therefore humble yourselves under the mighty hand of God, that He may exalt you in due time, casting all your care upon Him, for He cares for you. Be sober, be vigilant; because your adversary the devil walks about like a roaring lion, seeking whom he may devour. Resist him, steadfast in the faith, knowing that the same sufferings are experienced by your brotherhood in the world. But may the God of all grace, who called us to His eternal glory by Christ Jesus, after you have suffered a while, perfect, establish, strengthen, and settle you. To Him be the glory and the dominion forever and ever. Amen. ~ I Peter 5:6-11
------------------------------------------------