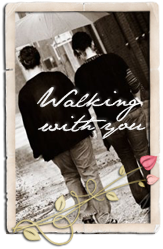 Contest now closed winners announced. You may still link your post and leave a comment, but they will not count toward the contest entry. Thank you so much and God bless you this Christmas season and in the coming year.
If you are missing someone you love this Christmas, someone of ANY age who is spending Christmas with Jesus this year, I hope you will join us on this very special Walking With You. We are sharing our Christmas memories and the ways that we remember our loved ones who have gone home to heaven at Christmas time. If you do not have a blog or do not wish to link a post, you may leave your Christmas memories in the comments below. If you do a post on your blog, come back and link up on the Linky following this post.
We will also be offering several beautiful ornaments to bless a few who participate.
This first round of giveaways will be for a special ornament to remember your loved one at Christmas. We are giving one baby boy Hallmark ornament (pictured later in this post), two Hallmark Always Remembered Ornaments (a porcelain clam with a pearl in it that says, "Every life leaves something beautiful behind.") And, one person will win a very special ornament hand painted by my friend Deanna who creates beautiful ornaments in memory of loved ones who have gone home to heaven as found on her site:
Payton's Precious Memories
(in memory of her daughter, Payton Rose). Deanna is donating an ornament for this giveaway...thanks so much, Dee!
How to enter:
1. Leave a comment on this post.
2. Participate by linking a post about how you remember your loved one at Christmas. (this gives an additional entry). Please put the Walking With You button in your post on your blog, or put a link to WWY in your blog post.
3. An additional entry will be given for every comment left on the posts that link up on our Linky.(I will be visiting the blogs who link with this post and tallying comments left. You must comment here to enter first, though so I know you would like to be included.)
-----------------------------------
How do we remember our babies (Faith, Grace, and Thomas) who are in heaven?
Each year, we fill three shoeboxes with gifts for Operation Christmas Child, which we then donate to the pile of boxes collected by our church for their annual donation. We fill two little girl boxes in memory of Faith and Grace and one little boy box in memory of our Thomas. It is a small thing, but it blesses me to be able to buy some little gifts in their memory and give them to another child in hopes that it will bring some joy. It is something tangible we can do to remember them every year.
A Christmas tree should tell a family's story. Each year, the memories come flooding back as we take out the ornaments and remember all the milestones our children have achieved, the sweet hand made ornaments adorned with school pictures, baby's first Christmas ornaments, Our first Christmas Together ornaments, and for those of us missing those we love, In Memory ornaments. They are a special way to include those who have gone home to heaven in our story. For they are very much a part of our hearts and our lives...and should be in the memories when we unwrap the ornaments each year and hang them on the tree that tells our family story. I shared a great deal about some of those special ornaments on our tree last year in
this post
. So, I won't repost all of that, but I will show a few more ornaments that have been added to our collection. Several of them came from some of you, my dear bloggy friends and fellow mamas. They touched my heart, and are treasured among some of the most precious gifts that I have received.
These beautiful ornaments were a gift I received last year from
Jess
:
And, this sweet ornament for my Thomas...
(Also the same baby boy Hallmark ornament we are giving away on this post!)
I also hang ornaments each year in memory of my sweet mother, Kathy, who went home to heaven four years ago. She adored Christmas, and she is so much a part of every Christmas memory for me. These Christmas giveaways are one thing I do to honor her memory. Even in difficult times, mom loved to make Christmas a fun celebration and she loved to give.
From
Because He Came
by Kelly Gerken...
More than two thousand years ago, the world ached for salvation, swelled with yearning for deliverance, redemption, restoration...for a Savior to rescue from sin and death. And He came...a baby King, born in a lowly stable on a quiet night to a peasant girl and her betrothed...a carpenter. He was in the still, small voice when He whispered past Elijah. And He was in the quiet stable birth when He came to rescue us and sent His angels to tell the lowly shepherds the good news.
His name is Jesus...and He came for me.
His name is Jesus...and He came for you.
And Because He came...there is hope for tomorrow and a promise of a joyful, forever reunion. He will wipe away all of the tears and wash away the loss and regret. He will cleanse and forgive and clothe us in robes of white. The empty arms will be filled. The hungry hearts will be fed. Brokenness will be restored. Mourning will be turned to dancing. And sin and death will be no more.
Because He came...He will carry us through this life.
And because He came...He will come again...in all His glory...to take us home.
© Kelly Gerken, Sufficient Grace Ministries 2008-2009
Thanks for letting me share some of my Christmas memories of my loved ones in heaven. I look forward to reading all of your memories, and pray that you will find comfort and hope in the truth that He came for you, as you remember this Christmas season.