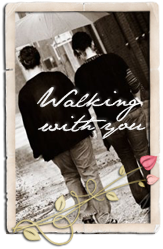 This will be the last post in the Threads of Hope Bible Study series. Thank you so much to those of you who have taken the time to walk through this study with us. I know some found it comforting and some did not enjoy it. But, I appreciate your willingness to try it out. We will be taking a little break from Walking With You, and I have a few ideas that I'll share soon. If you have a need in the mean time, please feel free to email me.
Joy is a feeling that follows a choice. Our joy comes not as a result of circumstances or events, but by choosing to trust God no matter what the circumstances. ~ Threads of Hope
Some of my favorite scriptures are in this lesson...verses that have carried me through dark valleys, moments of brokenness and doubt....despair and hurt. I am so excited to share and reassured as I read them again tonight. Oh, God's faithfulness astounds me. There really are no words. I'm so glad we get to talk about finding joy this week.
In Ezra, we see the new temple being built. The young priests sang praise at the sight of the new temple...they rejoiced over the restoration, the hope for the future, rejoiced that God was doing a new thing. The elders who had witnessed the glory wept as they saw the new temple. They felt the sorrow for what had been, for what was destroyed. I imagine their tears were bittersweet...mixed with the pain of what was lost and the hope of what was being built and restored before them.
Where am I? Do I see what was lost or the hope of a new city?
The honest answer is: I am in both places. Most of the time, I feel hope and joy and I see the new thing that God is building and the beauty of what He has already built. But, sometimes, I feel moments of broken-heartedness over what was lost and what may have been. Those moments wash over me at will. And, it's not a place I try to dwell, but they do come.
When they come, I try to remember that a New City waits for me. Even as God does a new thing in my life right now, the ultimate renewal and restoration is still ahead and waits for me in Heaven's glory. For that promise, I am so grateful.
The study asks "How can I praise God when I am still so hurt?" and directs us to Psalm 137, which asks, "How can we sing the Lord's song in a foreign land?"
Good question...and the answer, while may sound simple, I realize, at times, it is not. Last week, we talked about how one feels when in the pit. And, as I read through so many blogs of mothers who are now in that place of thick grief, I realize it's important to be sensitive to the fact that there is little that brings comfort in that place. And, even words of hope and truth can sting. Does that mean we stop offering hope? I don't think so. But, what we offer must be clothed in grace and love.
With that said...let's talk about praise and joy...
We praise God for who He is. No matter where we are, or what our circumstances, He never changes and He is always worthy of our praise. Grief is a foreign land. It's a land where we may feel moments of hopelessness and abandonment, of desperation and brokenness. But, even in that place, He is worthy of our praise. Even when we don't feel like it. Even if our praise in that moment when we are too weak to lift our heads...even in that moment is barely a whisper of His name...it is good to give Him praise. And, somehow that I can't really fully explain, praise brings us comfort, too.
Do we always feel joyful and happy?
No.
Shouldn't we wait until we do to give Him praise?
No...the praise comes first... The joy usually follows.
And now...my favorite part...the proof that there is always hope in Him.
Do not remember the former things,
Nor consider the things of old.
Behold, I will do a new thing,
Not it shall bring forth;
Shall you not know it?
I will make road in the wilderness
And rivers in the desert.
Is. 43:18-19
We will never forget our babies, and I don't think this verse is included to intend that. But, we can forget our hopelessness. We can let go of that pain and embrace the new thing that God offers us...a future of hope. He is able to make a road in the wilderness and rivers in the desert. He can bring life...even from death. He can use what was meant for evil, to bring good. He can make beauty from ashes. He can, and He will.
As far as forgetting...does God forget our babies or expect us to?
Can a woman forget her nursing child,
And not have compassion on the son of her womb?
Surely they may forget,
Yet I will not forget you.
See, I have inscribed you on the palms of My hands;
Your walls are continually before Me.
~Is. 49:15-16
God knows how a mother would never forget her baby...but says even if she would...He will not! And, He certainly doesn't expect us to forget.
So back to the new things God offers...what are they?
Lamentations 3 tells us that God offers us new mercies every morning...His compassion never fails...and great is His faithfulness.
2 Corinthians promises that we are a new creation in Jesus.
I waited patiently for the Lord;
And He inclined to me,
And heard my cry.
He also brought me up out of a horrible pit,
Out of the miry clay,
And set my feet upon a rock,
And established my steps.
He has put a new song in my mouth
Praise be to our God...
Psalm 40:1-3
----------------
You have turned for me my mourning into dancing;
You have put off my sackcloth and clothed me with gladness,
To the end that my glory may sing praise to You and not be silent.
O Lord, my God, I will give thanks forever.
Psalm 30:11-12
---------------
Those who sow in tears
Shall reap with songs of joy...
Psalm 126:5
You know...if you are struggling to find something to be thankful for...struggling to find the strength to give Him praise...take a moment and remember what He has already done, and who He is! I love to remember what God has done in my life and what He is already doing. It's hard to see all of that when you are in the pit. I know that, but He is still there. Even when we cannot see, He is working to turn our tears to joy. And, oh...what a beautiful song it is.
God has comforted me in so many ways. In the darkest moments, He comforted and strengthened me with His word. More recently, He has restored brokenness in my marriage, giving us a deep abiding love that has been tested by fire. He has shown me that His grace is sufficient, that He will never leave me, nor forsake me, that He is faithful...He is all that He says He is. He has blessed me with the privilege of being a mother to all my children...those on this earth, and those in Heaven. He has taught me about the kind of faith that grows in the pit of grief. And, He has blessed me with this ministry, offering comfort and hope to others walking this path. I could go on and on about the new song that He has put in my heart.
Great is His faithfulness....
Now may the God of all hope fill you with all joy and peace in believing, that you may abound in hope by the power of the Holy Spirit.
~ Romans 15:13
Please link up and take some time to encourage and walk with one another...
Love and Prayers for all...
---------